MailerKing (author spelling: M@ilerKing) – first public webmailer created by Romanian developer from Reșița Iancuta Liviu-Timotei, also known by nickname ioman, in 2008 as part of MyAdTools project, which was closed in February 2018 for unknown reasons.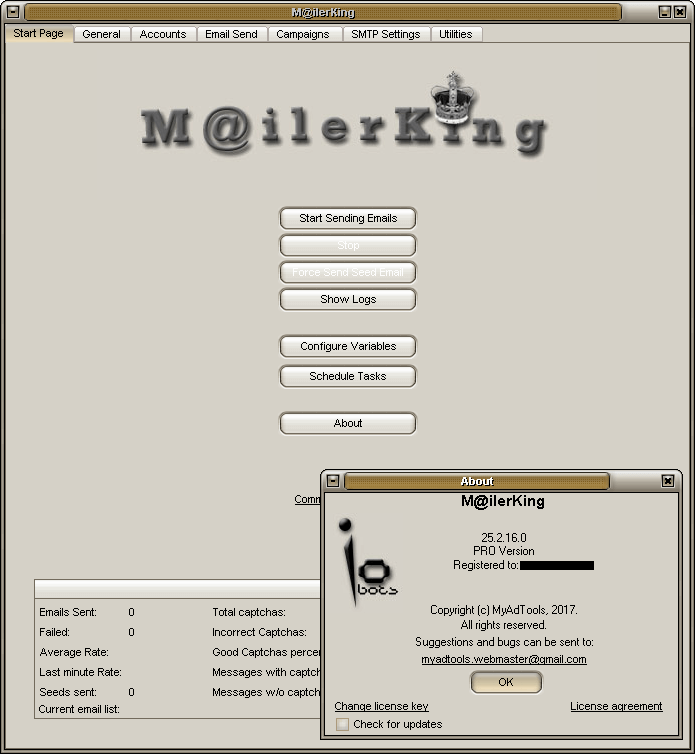 Those who do not like history can skip the next 3 paragraphs.
At first MyAdTools had only the usual multithreaded SMTP mailer in public, the program was called massMailer. In 2009 it was joined by the MailerKing webmailer, which could send letters through the web interface of AOL.com, GMail, Hushmail, live.com and Yahoo mailboxes already in the first version.
At the beginning of 2009, the Mail account creator (MailBot) was also born, so 2009 can rightfully be considered the birth year of public webmailing.
At some point the massMailer functionality was merged into MailerKing and the latter became the most powerful and versatile mailer on the market, supporting mailing via SMTP and via web. So he remained for almost 9 years, being developed right up to the 25th version, until December 18, 2017 an unexpected announcement appeared about the imminent closure of the MyAdTools project.
It is obvious that for so many years the project has gathered a lot of active customers who raised a decent wave of discontent. Despite this, in early February 2018, MyAdTools finally closed, posting news about this on their main page. License renewal for all MyAdTools programs was denied to all customers, payments already made were returned.
Of course, there were reversers who were able to unbind MailerKing from its license server and began to sell their cracks to suffering customers who had a business tied with mailing by MailerKing. On February 1, 2018, a topic appeared on the forum reversing.cc from a person with the nickname Perfect, who began selling his crack for MailerKing for $450.
This crack, or rather, its latest version in the form of license server emulator, is available for purchase to all MailBot customers for $100, which is more than 4 times cheaper than the author's price:
The kit includes:
MailerKing 25.2.16.0 PRO Version is the full latest released version of MailerKing
license server emulator for MailerKing is a standalone console application which is a local web server running at 127.0.0.1:80 and intercepting all MailerKing requests to the license server
Important! Support / training for work with MailerKing is not included. This offer is for those customers whose business was tied to MailerKing and who just need to continue their work.
Important! The local 80th port must be free for the emulator to work.
Video example of Mail.ru webmailer operating in MailerKing: